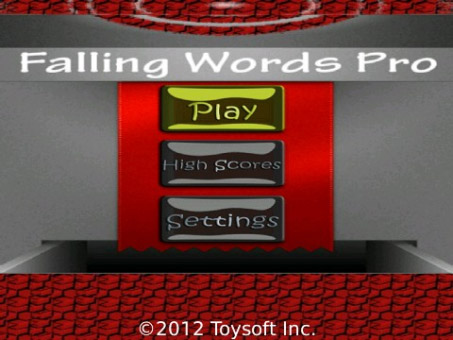 Tag:
Falling Word
Overview :
free Falling Words Pro 1.0.1 for blackberry games
File Size: 625 KB
Required Device Software Operating System: 5.0.0 or higher
Model: Blackberry 89XX Curve Series (480*360): 8900(Javelin), 8910(Atlas), 8930, 8950, 8980/Blackberry 90XX Bold (Onyx) Series (480*320) Devices Models: 9000, 9020(Onyx)/Blackberry 96XX Tour (Niagara) Series (480*360):9600, 9630, 9650(Tour2), 9700(Bold2), 9780, 9790, Dakota, Apollo /Blackberry 95XX Storm Series (360*480):9500, 9510, 9520, 9530, 9550(Storm2), 9570(Storm3)/Blackberry Torch Series: 9800(Torch), Torch2, 9810, 9860/Blackberry Pearl 3G Series (360*400) Devices Models: 9100, 9105, 9670(Style)/Blackberry 99XX (OS 7.0) Series (640*480) Devices Models: 9900, 9930, 9981

Description:
Falling Words Pro is a fast and challenging typing game where you have to type all the falling words. Each word you spell correctly you score points but if a word falls down you lose one live. If all three lives are lost the game is over. Each level the speed increases and more words are falling and the words are tougher to spell.
Falling Words Pro is a great way to increase your typing skills on mobile devices.
Features
-----------
* Top 10 high scores
* Three different modes: Normal, Practice and Random. Random will randomly generate letters. There is no ending in Practice and Random modes and scores does not count
* Control the speed: Normal, Slow and Fast
* Background sound
* User selectable background picture
* User selectable sound eg: mp3 sound track
* Start at a given level that you already cleared
* The more you play Falling Words Pro and better your typing skills will be