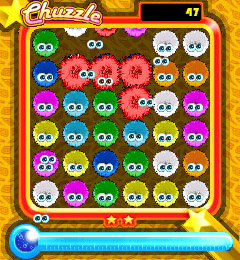 Tag:
Chuzzle
Overview :
free Chuzzle v1.0.2 for blackberry 71xx, 81xx, 8220 games
size: 449 KB
model: 7100,7130,8100,8110,8120,8130,8220
Description:
Match colorful Chuzzles in groups of three or more, and these lovable, googly-eyed furballs will sneeze, shiver and burst apart in hilarious explosive action. Send fur flying and scores soaring by popping Giant Chuzzles, Super Chuzzles and Rainbow Chuzzles. Charming Chuzzle antics, raucous retro sound effects and a funky soundtrack will keep you smiling every minute of play.

Come on, download this blackberry games for your phone.