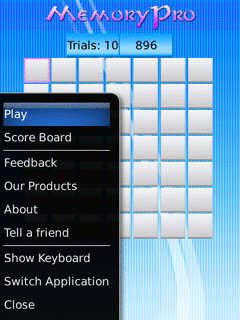 Tag:
Memory
storm games
Overview :
Memory Pro Lite for storm games
Model:
Blackberry 95XX Storm Series (360*480):9500, 9510, 9520, 9530, 9550(Storm2)
Description:
MemoryProLite is an addictive little game to test your visual short term memory and increase your brain power.
Human brain has 7±2 memory buffer for short term memory, so try to test them all !
How to play:
Boxes in grid will flash and you have to detect which boxes flashed.