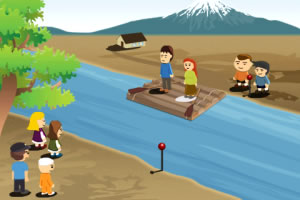 Tag:
Test
curve games
River
Overview :
The River Test v1.7
Description:
THE JAPANESE JOB INTERVIEW IQ TEST, THAT ONLY 10% OF THE PEOPLE ON THE PLANET CAN PASS.
This is the Japanese IQ test that they give during job interviews for senior positions. It is believed that only 10% of the people on the planet can solve this test. And we have created a game to help you solve this test.
TEST YOURSELF. TEST YOUR FRIENDS.
OVERVIEW
The River Test game is created to assure you have the perfect environment to solve the task. It contains all the necessary tools you will need and it prevents you from doing a mistake.
RULES
Only 2 people on the raft at a time
The Father cannot stay with any of the daughters, without their Mother's presence
The Mother cannot stay with any of the sons, without their Father's presence
The thief (striped shirt) cannot stay with any family member, if the Policeman is not there
Only the Father, the Mother and the Policeman know how to operate the raft
FEATURES
Quick access to the Rules
All 8 characters
Gorgeous graphics and design
Build-in checks to ensure you follow the rules
No internet connection required
LOTS OF FUN
Enjoy!
Model:
Blackberry 89XX Curve Series (480*360): 8900(Javelin), 8910(Atlas), 8930, 8950, 8980/Blackberry 90XX Bold (Onyx) Series (480*320) Devices Models: 9000, 9020(Onyx)/Blackberry 96XX Tour (Niagara) Series (480*360):9600, 9630, 9650(Tour2), 9700(Bold2), 9780, Dakota, Apollo /Blackberry 95XX Storm Series (360*480):9500, 9510, 9520, 9530, 9550(Storm2), 9570(Storm3), 9800(Torch), Torch2/Blackberry Pearl 3G Series (360*400) Devices Models: 9100, 9105, 9670(Style)