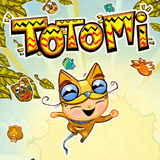 Tag:
81xx games
Totomi
Overview :
Totomi for 71xx,81xx games
Description:
Build your totem poles as high as you can in this addictive and novel puzzler that requires you to master the delicate ecosystem between all manner of flora and fauna.
From fish, mice, birds and elephants to zebra, lions and plants, play as the guardian of the sacred Totomi and ensure all your creatures live in harmony so you can build the highest possible totem.
But beware, Totem blocks react differently to other animals based on food chain relations and the delicate balance can be upset at any moment. Have you got what it takes to be the guardian of the sacred Totem poles?
Model:
Blackberry 71XX Series (240*260) Devices Models: 7100, 7110t, 7105t, 7100r, 7100v, 7100g, 7100x, 7100i, 7130e, 7130c, 7130g, 7130v/Blackberry 81XX Series (240*260) Pearl Devices Models: 8100, 8110, 8120, 8130