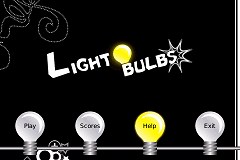 Tag:
Light
Bulbs
Overview :
free Light Bulbs v1.4 - blackberry storm games
Description:
A wonderfully simplistic, yet extremely addictive puzzle game with challenging solutions in which the player is presented with a grid of bulbs, a power source and connectors. The objective is to place the connectors to light all the bulbs on the grid, so that every bulb is lit connecting through power source.
The trick to achieve a high score in the game, is to light all the bulbs in lesser moves of connectors. The lesser moves results in higher efficiency and less time consumption resulting in higher scores.
An ideal companion for all those occasions where you want to burn off a few minutes with a puzzle game on your cellphone!
Features:
Simple & amazingly addictive game!
Game statistics with Top 10 High-Score listing.
Use 'Q' and 'P' for clockwise and anti-clockwise rotation.
3 levels - Small, Medium and Large for different users!
Ideal for a quick game play!
Minimum Requirements:
•RIM OS 4.2
Display Dimensions
240x240, 240x260, 240x320, 320x240, 360x400, 360x480, 480x320, 480x360
Operating System
4.2, 4.3, 4.5, 4.6, 4.7 Non-Touch, 4.7 Touch Screen, 5.0 Non-Touch, 5.0 Touch Screen, 6.0 Non-Touch, 6.0 Touch Screen
Model:
Blackberry 72XX Series (240*160) Devices Models: 7200, 7210, 7230, 7250, 7270, 7280, 7290, 7510, 7520, 6510/Blackberry 71XX Series (240*260) Devices Models: 7100, 7110t, 7105t, 7100r, 7100v, 7100g, 7100x, 7100i, 7130e, 7130c, 7130g, 7130v/Blackberry 81XX Series (240*260) Pearl Devices Models: 8100, 8110, 8120, 8130/Blackberry 82XX Series (240*320) Pearl Flip Devices Models: 8200, 8220, 8230/Blackberry 8350i (320*240) Related Devices Model: 8500, 8520, 8530, 9300(Kepler)/Blackberry 83XX Series (320*240) Curve Devices Models: 8300, 8310, 8320, 8330 / Blackberry 87XX Series (320*240) Devices Models: 8700c, 8700r, 8700f, 8700g, 8703e, 8707, 8707g, 8707v .etc /Blackberry 88XX Series (320*240) Devices Models: 8800, 8820, 8830 .etc /Blackberry 89XX Curve Series (480*360): 8900(Javelin), 8910(Atlas), 8950, 8980/Blackberry 90XX Bold (Onyx) Series (480*320) Devices Models: 9000, 9020(Onyx)/Blackberry 96XX Tour (Niagara) Series (480*360):9600, 9630, 9650(Tour2), 9670, 9700(Bold2), 9780 /Blackberry 95XX Storm Series (360*480):9500, 9510, 9520, 9530, 9550(Storm2), 9800(Torch)/Blackberry Pearl 3G Series (360*400) Devices Models: 9100, 9105