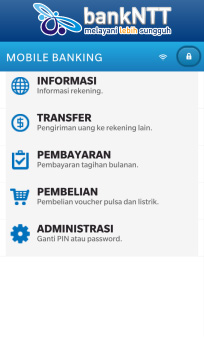 Tag:
Q20
bankNTT
Q5
Overview :
bankNTT Mobile Banking 1.0 for Q10,Q5 apps
bankNTT Mobile Banking is an application that designed to use data services from provider that are used in your mobile to perform banking transactions in the menu form for the platform BlackBerry and other smartphones. With bankNTT Mobile Banking application sustain you to perform each transaction simply by choosing a transaction such as mobile electronic reload, bill payments, transfer between bankNTT accounts and ATM Bersama.
To use this application, you must be registered in this service. You can only make the registration process through ATM bankNTT or bankNTT office near you.
As a registered, you can perform transaction among others :
1. Balance information
2. Internal transfer and ATM Bersama
3. Purchase of mobile electronic reload
4. Purchase PLN Prepaid voucher
5. Payment Halo card, home phone, subscription Tv, etc.
Supported Devices:
BlackBerry Passport
BlackBerry Passport Silver Edition
BlackBerry Q10
BlackBerry Q5
BlackBerry Z10
BlackBerry Z3
BlackBerry Z30