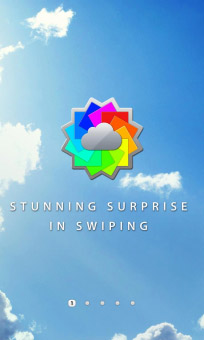 Tag:
MMMOOO
Wallpapers
Overview :
The "Wallpapers Sky"is a good wallpaper application developed by @ MMMOOO , update a lot of beautiful wallpaper daily. Of Course, BlackberryRC.com will also update a lot of wallpaper each day; Please can go to
The "Wallpapers Sky" download starts to charging in the previous version , only need to pay $0.99 can download the no watermarked wallpaper, otherwise what wallpaper downloaded have the watermark. That measures also brought a lot of critical comments, they all think users participate in free upload download wallpaper need to pay is unreasonable, yesterday wallpaper sky updates its version to 2.6.3.2536 in BlackBerry World , new version improved fluency, especially for removing the watermark and add the three options:
1. Go to BlackBerry World give the five-star high praise;
2. upload to share their wallpaper;
3. Pay $0.99 for no watermarked wallpaper download.
You can choose any one of the above three ways to get the download function of the no watermarked wallpaper, but the former two ways obtaining the function is not complete: only support download no watermarked wallpaper, set to be wallpaper, but do not have permission to wallpaper "preview", pay $0.99 for the full permission .
Don't hesitate any more, and promptly take your cell phone to the BlackBerry World to download or update!!!!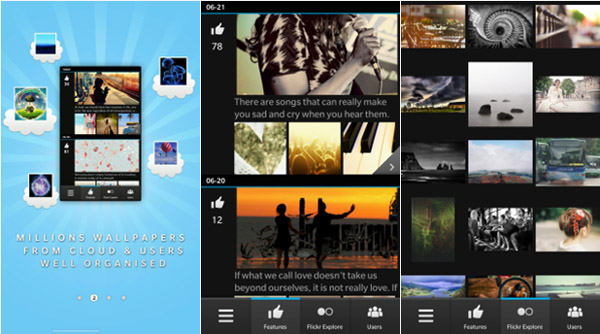 Description:
★★Current version 3.1.3
Task rewards: 3 ways to win no-watermark ver.
Fixed: Wallpaper Show category select bug
Notice: Big new features are on the way so stay tuned!
★★Queuing feature, bulk download just enabled!
Now: Long press each wallpaper in list to add to favorites, save data traffic, go to 'MY'-Favorites to start queuing feature and bulk download.
Refresh your homescreen and background with dedicated HD wallpapers, lots of inspirations in every touch of your phone!
★★Features:
1. Flickr origins, you can get the most awesome wallpapers which are selected by flickr
2. Wallpaper upload, if you make a very beautiful wallpaper and would like to share
3. Users' collection, high quality wallpapers from genius all over the world and collected by our editor
4. Share Hub Invoke, in photo gallery, you can share the photo right there via share hub to Wallpapers Sky
5. Clear sorts: newest, hottest, recommendation, content categories, shuffle
★★★Please note: If you do not like the thumbnail saved in your phone, you can select clear cache: plz pull downs from your phone screen's top border, you can see a menu, then just go 'settings' and select 'clear cache'!