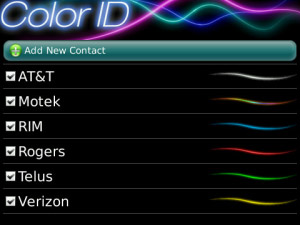 Tag:
9790 apps
Color ID
Overview :
Color ID v2.4.2 ( os5.0-7.0 apps) - Color ID lets you assign custom LED color combinations by contact when you receive BBMs, texts, emails and calls. With over 100 possible color combinations including "Disco" and "Double Rainbow" & unlimited custom contacts, seeing who's contacting you has never been more awesome.

Version: 2.4.2
File Size: 1.18 MB
Required: 5.0.0 or higher
model: Pearl 9100 3G, Pearl 9105 3G, Curve 8520, Curve 8530, Curve 8900, Curve 8910, Curve 8980, Bold 9000, Curve 9300 3G, Curve 9330 3G, Tour 9630, Bold 9650, Style 9670, Bold 9700, Bold 9780, Bold 9788, Curve 9350, Curve 9360, Curve 9370, Storm 9500/9530, Storm2 9550/9520, Torch 9850/9860, Torch 9800, Bold 9790, Torch 2 9810, Bold 9900/9930, 9981


Setting up BBM: http://bit.ly/zymwC7
Syncing with your BlackBerry® Address Book is easy! Just start typing a name from your Address Book and it will autofill the rest for you!
With over 100 possible color combinations, it's totally up to you - Maybe Yellow and Orange for your company colors, Disco for your boyfriend/girlfriend, or maybe Jersey Shore for your party people. You'll always know at a glance who's contacting you with Color ID.
* OS 5 required for BBM functionality *
Professional UI, functionality and previews by BlackBerry® professionals.
This FULL version gives you UNLIMITED CUSTOM CONTACTS for specific colors and dedicated tech support! Awesome.
JUST ADDED: 10 NEW AWESOME COLOR COMBINATION PRESETS!
* Lava Lamp
* Hot Mess
* Creamsicle
* Pink Friday
* Rocket Pop
* Fireworks
* Water
* Fire
* Earth
* Wind
Other Color Combinations Include:
* Disco
* Five-O
* Emergency Response
* Girlfriend
* Boyfriend
* Jersey Shore
* Double Rainbow
* Ignore (no LED)
* Disco Fast
* Disco Slow