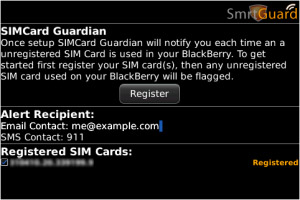 Tag:
Security
SmrtGuard
Overview :
SmrtGuard Mobile Security v5.25.0 - free blackberry apps download
Required Device Software
4.2.0 or higher
Description
Protect your BlackBerry® for FREE with SmrtGuard Mobile Security. With SmrtGuard you get the best data and device protection for your BlackBerry® that includes Call Blocking, Anti-Theft & Recovery, Personal Guardian, and an easy way to Find Your Missing Device. Best of all – it's FREE!
SmrtGuard Free includes:
Anti-Theft & Recovery
- Find lost or stolen smartphone and track it remotely via GPS through SmrtGuard.com
- Remotely Lock your smartphone to prevent unauthorized use of phone or data.
Call Blocker
- Block unwanted calls and create "blacklists" for those numbers.
Personal Guardian
- Emergency distress calls with a single button push on the smartphone. When activated, it sends out a distress email, SMS and/or phone call for help.
- Allow other trusted users (i.e. loved ones) to track the smartphone via the web. Great for parents to know where their children are.
SIMCard Guardian
- If an Unregistered SIM Card is put into the device, SmrtGuard sends a warning email and tracking turns on.
Includes FREE 30-day trial of SmrtGuard PRO!
SmrtGuard PRO provides all the great features of SmrtGuard Free plus Mobile Anti-Virus, Anti-Spam to block emails, Secure Wireless Backup & Restore to protect and restore your data onto a new device, and Remote Wipe to delete smartphone data from a lost device.
SmrtGuard PRO includes all of the above plus:
Mobile Anti-Virus
- Real-time protection against the latest viruses and malware.
- Schedule automatic virus scans and auto updates with the latest virus definitions.
Anti-Spam
- Remove email spam.
- Create and backup Spam "blacklists" to transfer to a new smartphone.
Over-the-Air Backup & Restore
- Schedule automatic wireless backups of personal data.
- Access personal data via the web and restore data to the device wirelessly.
- Easily migrate data wirelessly to a new device.
Remote Wipe
- In case of permanent loss, smartphone data can be remotely wiped via web.
Multi-User Management
- Perfect for families or small businesses.
- Simple to setup – add / remove new users in seconds.
- Includes management of up to three devices from a single SmrtGuard Pro account.