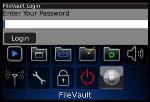 Tag:
9000 apps
MBL Vault
Overview :
MBL Vault for blod 9000 apps
Model:
Blackberry 72XX Series (240*160) Devices Models: 7200, 7210, 7230, 7250, 7270, 7280, 7290, 7510, 7520, 6510/Blackberry 71XX Series (240*260) Devices Models: 7100, 7110t, 7105t, 7100r, 7100v, 7100g, 7100x, 7100i, 7130e, 7130c, 7130g, 7130v/Blackberry 81XX Series (240*260) Pearl Devices Models: 8100, 8110, 8120, 8130/Blackberry 82XX Series (240x320) Pearl Flip Devices Models: 8200, 8220, 8230/Blackberry 8350i (320*240) Related Devices Model: 8500, 8520/Blackberry 83XX Series (320*240) Curve Devices Models: 8300, 8310, 8320, 8330 / Blackberry 87XX Series (320*240) Devices Models: 8700c, 8700r, 8700f, 8700g, 8703e, 8707, 8707g, 8707v .etc /Blackberry 88XX Series (320*240) Devices Models: 8800, 8820, 8830 .etc /Blackberry 89XX Curve Series (480*360): 8900(Javelin), 8910(Atlas)/Blackberry 90XX Bold (Onyx) Series (480*320) Devices Models: 9000, 9020(Onyx)/Blackberry 96XX Tour (Niagara) Series (480*360):9600, 9630, 9650(Tour2), 9700(Bold) /Blackberry 95XX Storm Series (360*480):9500, 9510, 9520, 9530, 9550(Storm2)
Description:
mblVault is a password protected, secure location on your Blackberry Smartphone to store your most sensitive data.
All files and file names stored in mblVault are encrypted for maximum security.
These files become accessible only after entering your password and viewing them directly with in the mblVault application.
If your phone is lost or stolen, the data will not be accessible to anybody else, even if it is plugged in to a USB cable, and browsed on a computer.
Features:
Import from Device Memory/SD Card
Export to Device Memory/SD Card
User Defined Password Protection
Encrypts File names and Content
Play/View all files supported by your phone
PS: The program is pin activated, so if you have a way around this, have fun stashing all your dirty little secrets ;). This is just the cod file and you would need to use bbsak to install.
Compatible with all BB devices.