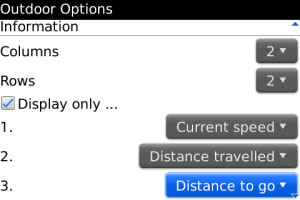 Tag:
Nogago
Overview :
Nogago v2.13.0 apps for blackberry
Description:
Nogago outdoor is a great companion for international travelers and outdoor enthusiasts alike. Thanks to GLOBAL pedestrian routing and offline maps for every place on planet earth, you can move with greater privacy, outside of mobile network coverage and without paying data roaming fees. Download offline maps at www.nogago.com, where you can also plan and find tracks for your next weekend or afterwork outdoor activity.
Next to being the best maps application available for BlackBerry®, nogago outdoor also transforms your phone into a fully-fledged outdoor navigation device. Track and measure time, distance and speed of your activities; view maps of the area anytime and offline; navigate along tracks and planed routes with routing optimized for walking and biking. Nogago outdoor is made for people not for cars !
Nogago outdoor requires a BlackBerry® with GPS (either internal or attached via Bluetooth) and a SDCard inserted into the device to store maps and tracks. Please contact support@nogago.com, if you have questions, feedback or need advice concerning the nogago outdoor. We are happy to help you out !
Note: Storm2 (9530, 9550) users might experience a strange message appearing only once at first start. Despite all efforts to debug this, we can't get hold of the error. It goes away once the app was started (some minutes later) and never appears again at future starts.
Model:
Blackberry 81XX Series (240*260) Pearl Devices Models: 8100, 8110, 8120, 8130/Blackberry 82XX Series (240*320) Pearl Flip Devices Models: 8200, 8220, 8230/Blackberry 8350i (320*240) Related Devices Model: 8500, 8520, 8530, 9300(Kepler), 9330/Blackberry 83XX Series (320*240) Curve Devices Models: 8300, 8310, 8320, 8330 / Blackberry 87XX Series (320*240) Devices Models: 8700c, 8700r, 8700f, 8700g, 8703e, 8707, 8707g, 8707v .etc /Blackberry 88XX Series (320*240) Devices Models: 8800, 8820, 8830 .etc /Blackberry 89XX Curve Series (480*360): 8900(Javelin), 8910(Atlas), 8930, 8950, 8980/Blackberry 90XX Bold (Onyx) Series (480*320) Devices Models: 9000, 9020(Onyx)/Blackberry 96XX Tour (Niagara) Series (480*360):9600, 9630, 9650(Tour2), 9700(Bold2), 9780, Dakota, Apollo /Blackberry 95XX Storm Series (360*480):9500, 9510, 9520, 9530, 9550(Storm2), 9570(Storm3), 9800(Torch), Torch2/Blackberry Pearl 3G Series (360*400) Devices Models: 9100, 9105, 9670(Style)