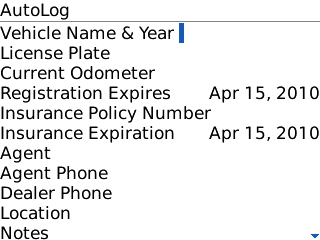 Tag:
AutoLog
Overview :
AutoLog v1.0 apps for blackberry
Description:
Manage your vehicles with extensive tools such as Fuel, Repair, Maintenance, Trip and Expenses. Includes reminder of important Dates at Startup.
AutoLog is a comprehensive Vehicle Management tool. AutoLog contains various tracking modules, including Fuel Entry, Repair Details, Maintenance Details, Trip Details, Expenses and Dates to Remember.
Vehicle Profile:
* Any number of vehicle profiles with all essential details can be added with user's choice.
* Easy User-Interface.
* Simple way to Edit and Delete the vehicle details.
* Vehicle details are displayed in a sorted format.
Modules and Sub-details: Sub-details can be added for any vehicle:
* Fuel Entry
* Repair and Maintenance Details
* Trip Information
* Other Expenses
* Dates to Remember (Reminder)
Model:
Blackberry 71XX Series (240*260) Devices Models: 7100, 7110t, 7105t, 7100r, 7100v, 7100g, 7100x, 7100i, 7130e, 7130c, 7130g, 7130v/Blackberry 81XX Series (240*260) Pearl Devices Models: 8100, 8110, 8120, 8130/Blackberry 82XX Series (240x320) Pearl Flip Devices Models: 8200, 8220, 8230/Blackberry 8350i (320*240) Related Devices Model: 8500, 8520/Blackberry 83XX Series (320*240) Curve Devices Models: 8300, 8310, 8320, 8330 / Blackberry 87XX Series (320*240) Devices Models: 8700c, 8700r, 8700f, 8700g, 8703e, 8707, 8707g, 8707v .etc /Blackberry 88XX Series (320*240) Devices Models: 8800, 8820, 8830 .etc /Blackberry 89XX Curve Series (480*360): 8900(Javelin), 8910(Atlas)/Blackberry 90XX Bold (Onyx) Series (480*320) Devices Models: 9000, 9020(Onyx)/Blackberry 96XX Tour (Niagara) Series (480*360):9600, 9630, 9650(Tour2), 9700(Bold2) /Blackberry 95XX Storm Series (360*480):9500, 9510, 9520, 9530, 9550(Storm2)