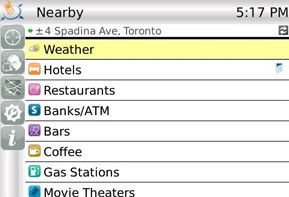 Tag:
pearl apps
BTSidekick
Overview :
BTSidekick for blackberry pearl apps
Description:
BTSidekick is a free application for your BlackBerry SmartPhone that helps you find the things you need while on the move. This all-in-one application quickly identifies your position and puts maps, driving directions, business listings, weather, movie listings and more at your fingertips.
FEATURES:
* Quickly find local businesses with links to reviews, coupons and more
* Get Current, Hourly & 10-day weather forecast, including Radar/Satellite
* Find Theatres near you with movie listings and showtimes
* Integrated with leading Travel Discount Program(s)
* Maps and Driving Directions
* White-label for your organization with Revenue Sharing
SUPPORTED DEVICES:
* BlackBerry Storm
* BlackBerry Bold
* BlackBerry Tour
* BlackBerry Curve 8300/8520/8900 Series
* 8800 Series
* Pearl & Pearl Flip
Please note that the device must be running OS version 4.2.1 or higher.
COVERAGE AREAS: Canada, United States, Mexico, Austria, Belgium, Botswana, Bulgaria, Croatia, Czech Republic, Denmark, Egypt, Finland, France, Germany, Greece, Hong Kong, Hungary, Indonesia, Ireland, Italy, Japan, Latvia, Liechtenstein, Lithuania, Luxembourg, Malaysia, Mozambique, Netherlands, Norway, Poland, Romania, Russia, Serbia, Slovakia, Portugal, Singapore, South Africa, Spain, Sweden, Switzerland, Thailand, United Kingdom.
For more details, visit http://www.btsidekick.com
Model:
Blackberry 81XX Series (240*260) Pearl Devices Models: 8100, 8110, 8120, 8130/Blackberry 82XX Series (240*320) Pearl Flip Devices Models: 8200, 8220, 8230/Blackberry 8350i (320*240) Related Devices Model: 8500, 8520, 8530, 9300(Kepler)/Blackberry 83XX Series (320*240) Curve Devices Models: 8300, 8310, 8320, 8330 / Blackberry 87XX Series (320*240) Devices Models: 8700c, 8700r, 8700f, 8700g, 8703e, 8707, 8707g, 8707v .etc /Blackberry 88XX Series (320*240) Devices Models: 8800, 8820, 8830 .etc /Blackberry 89XX Curve Series (480*360): 8900(Javelin), 8910(Atlas), 8950, 8980/Blackberry 90XX Bold (Onyx) Series (480*320) Devices Models: 9000, 9020(Onyx)/Blackberry 96XX Tour (Niagara) Series (480*360):9600, 9630, 9650(Tour2), 9670, 9700(Bold2), 9780 /Blackberry 95XX Storm Series (360*480):9500, 9510, 9520, 9530, 9550(Storm2), 9800(Torch)/Blackberry Pearl 3G Series (360*400) Devices Models: 9100, 9105