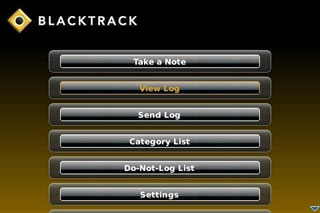 Tag:
BlackTrack
Overview :
BlackTrack is an easy to use, fully-automated productivity tool for business professionals. It provides daily, weekly and/or monthly reports of your phone / email / SMS activity with optional notes that help you bill time, recover costs, complete timesheets and update project management.
With BlackTrack, you are in complete control. From your Blackberry®, you have the freedom to customize all settings and functions. It provides complete, pop-up free tracking as soon as it is installed, with the option to select:
what is logged or ignored
what is reported
report delivery frequency
which contacts require note pop-ups.
Plus:
NO web services
NO monthly fees
FREE support via email
FEATURES
ACTIVITY LOGGING
Phone
Email
SMS
ACTIVITY LOGGING PARAMETERS
Call / Email Minimum Duration to Log
View / Edit Log on Device
Exclude specific Contacts and Categories
Log specific
Days of Week
Time of Day
NOTES
Auto-Prompt for Note on
All calls / No calls
Selected Callers
Selected Categories
Add / Edit notes in call log
CATEGORIZATION
User defined categories
e.g. Billable, Personal, etc
Auto-assign categories to contacts
Sort logs and reports by categories
Categorize calls in the call log
REPORT DELIVERY
Deliver to multiple addresses
Get log now function
Daily or weekly delivery
Monthly report
Specify report date range
ACTIVITY REPORT
Date & Time of all events
Call Duration
Email Duration
Notes/Details
Category
Report only selected categories
SECURITY & SUPPORT
All Data stored only on your device
Reports only delivered from your device
NO web-based services involved
Free and fast support via email

Model:
Blackberry 8350i (320*240) Related Devices Model: 8500, 8520, 8530, 9300(Kepler), 9330/Blackberry 89XX Curve Series (480*360): 8900(Javelin), 8910(Atlas), 8930, 8950, 8980/Blackberry 90XX Bold (Onyx) Series (480*320) Devices Models: 9000, 9020(Onyx)/Blackberry 96XX Tour (Niagara) Series (480*360):9600, 9630, 9650(Tour2), 9700(Bold2), 9780 /Blackberry 95XX Storm Series (360*480):9500, 9510, 9520, 9530, 9550(Storm2), 9570(Storm3), 9800(Torch)/Blackberry Pearl 3G Series (360*400) Devices Models: 9100, 9105, 9670(Style)