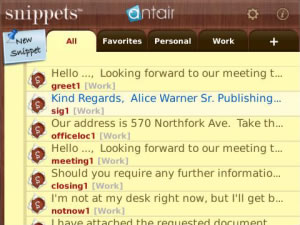 Tag:
9800 apps
9900 apps
Snippets
Overview :
Snippets v1.3.0 apps for blackberry free download
Model:
Blackberry 81XX Series (240*260) Pearl Devices Models: 8100, 8110, 8120, 8130/Blackberry 82XX Series (240*320) Pearl Flip Devices Models: 8200, 8220, 8230/Blackberry 8350i (320*240) Related Devices Model: 8500, 8520, 8530, 9300(Kepler), 9330/Blackberry 83XX Series (320*240) Curve Devices Models: 8300, 8310, 8320, 8330 / Blackberry 87XX Series (320*240) Devices Models: 8700c, 8700r, 8700f, 8700g, 8703e, 8707, 8707g, 8707v .etc /Blackberry 88XX Series (320*240) Devices Models: 8800, 8820, 8830 .etc /Blackberry 89XX Curve Series (480*360): 8900(Javelin), 8910(Atlas), 8930, 8950, 8980/Blackberry 90XX Bold (Onyx) Series (480*320) Devices Models: 9000, 9020(Onyx)/Blackberry 96XX Tour (Niagara) Series (480*360):9600, 9630, 9650(Tour2), 9700(Bold2), 9780, Dakota, Apollo /Blackberry 95XX Storm Series (360*480):9500, 9510, 9520, 9530, 9550(Storm2), 9570(Storm3), 9800(Torch), 9810/9850/9860(Torch2)/Blackberry Pearl 3G Series (360*400) Devices Models: 9100, 9105, 9670(Style)/Blackberry 99XX (OS 7.0) Series (640*480) Devices Models: 9900, 9930
Description:
Antair Snippets allows you to create shortcuts for frequently typed email messages, common responses, signatures, or any other text that you don't want to keep retyping over and over.
With Snippets, you don't need to type out that long response. Just type the shortcut, and Snippets will automatically insert the entire response into your outgoing email.
With Antair Snippets, you can send thorough, detailed email responses in seconds, without having to type a word. So you can send perfect thank-you notes to your clients without having to re-type them every time.
Not having to retype the same email message saves time, and cuts down on mistakes. With Antair Snippets, your travel directions and task instructions will always be detailed and accurate.
Antair Snippets integrates seamlessly with your BlackBerry® inbox. You can insert, create, browse, and edit all of your Snippets, without leaving the BlackBerry email application. Your Snippets are automatically inserted into the message you are composing. Antair Snippets was designed to assist you, without getting in your way.
The Antair Snippets user interface has been carefully designed to be both functional and easy to use. Creating a new Snippet is as simple as it gets, your most frequently used Snippets are presented to you automatically for quick selection, and you can categorize your Snippet collection as you see fit.